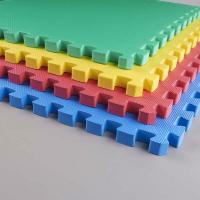 Why EVA Mats For Martial Arts?
Customers always ask me why EVA mats are so good for martial arts training. It is a good question as martial arts mats are in high demand now, especially since MMA and BBJ has taken off in the past years. There is a number of answers to this question which I will explore in further details below.
EVA mats are a puzzle mats which is made from expandable foam. The main feature of EVA is that is has absorbing qualities which make it idea as an anti-fatigue mats. EVA can come in a variety of thicknesses depending on the application. It is ideally used to make mats but it can also be used for other applications in both sports and industry. EVA can be dyed into any colour and can even have multiple colours such as our jigsaw mats.
EVA mats are also light weight. As they are made from expandable foam there is no need for any other material to be used in combination which the mats. They don't need an additional protective coating as they are easy to clean and are very durable. It is there very durability that makes them so appealing. We have supplied these to all sorts of organisations such as police tactical response training who put them through vigorous work outs in a daily basis.
Lastly EVA mats are cheap. They are the most inexpensive anti-fatigue mats you are likely to find. As EVA is just an petroleum bi-product it is a material which is in abundance and is easy to obtain. The inexpensive quality of these mats makes them the ideal product for any organisation that needs to stick to a budget.