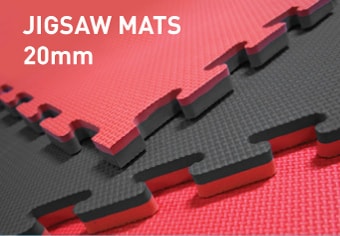 EVA Interlocking Jigsaw mats
EVA interlocking jigsaw mats such as those sold by Southern Cross Mats are a form or safety flooring commonly used by a variety of martial arts. They are used to minimise the impact of falling during training. All martial arts have training methods which from time to time necessitate falling to the floor. Especially in MMA, where there is combination of martial arts including judo and wrestling, students can be expected to throw one another on to the mats. Jigsaw mats are an excellent way to mitigate the effects of being thrown or falling. Also where there is grappling or rolling on the flour jigsaw mats help create a clean even surface to training to take place.
EVA (Ethylene vinyl acetate)
EVA is one of the materials popularly known as expanded rubber or foam rubber. EVA foam is used as padding in equipment for various sports such as ski boots, bicycle saddles, hockey pads, boxing and mixed martial arts gloves and helmets, wakeboard boots, waterski boots, fishing rods and fishing reel handles. It is typically used as a shock absorber in sports shoes, for example. It is used for the manufacture of floats for commercial fishing gear such as purse seine (seine fishing) and gillnets. In addition, because of its buoyancy, EVA has made its way into non-traditional products such as floating eyewear. It is also used in the photovoltaics industry as an encapsulation material for silicon cells in the manufacture of photovoltaic modules. EVA slippers and sandals are currently very popular because of their properties like light weight, easy to mold, odorless, glossy finish, and cheaper compared to natural rubber. In fishing rods, it is used to construct handles on the rod-butt end. EVA can be used as a substitute for cork in many applications.
EVA is used in the manufacture of the Adidas Jabulani football and Native shoes. EVA is used in orthotics, fire safe cigarettes (FSC), surfboard and skimboard traction pads, and for the manufacturing of some artificial flowers. It is used as a cold flow improver for diesel fuel and a separater in HEPA filters. EVA can easily be cut from sheets and molded to shape. It is also used to make thermoplastic mouthguards that soften in boiling water for a user specific fit. It is also used for impregnation of leather. Additional uses are in the making of nicotine transdermal patches since the copolymer binds well with other agents to form gel like substances. EVA is also sometimes used for making body bags. So EVA is a multi-purpose product used in a number of products not just jigsaw mats.
Jigsaw
The jigsaw mats is modelled on the same concept of jigsaw puzzles. A jigsaw puzzle is a tiling puzzle that requires the assembly of numerous small, often oddly shaped, interlocking and tessellating pieces. Each piece usually has a small part of a picture on it; when complete, a jigsaw puzzle produces a complete picture. In some cases more advanced types have appeared on the market, such as spherical jigsaws and puzzles showing optical illusions.
Jigsaw mats are available in a number of different thicknesses. The activity usually determines what thickness is used. The higher the impact the thicker the mat. So for example activities such as judo will user a thicker jigsaw mat then say aerobics. Both activities require jigsaw mats to minimise effects on the body and joints.
Specifications for Jigsaw mats
Specs for our 20mm jigsaw mats below:
SIZE: 1mx1mx2.0cm
STRIPES: T stripes
COLOR: red/blue, black/red, black/grey
HARDNESS:60 degrees
DENSITY:130kgs/CBM
PACKING: 5PCS/woven bag
Specs for our 30mm jigsaw mats below:
SIZE: 1mx1mx3.0cm
STRIPES: T stripes
COLOR: red/blue, black/red, black/grey
HARDNESS:45degree
Density:110kgs/CBM
PACKING: 5PCS/woven bag
Specs for our 40mm jigsaw mats below:
SIZE: 1mx1mx4.0cm
STRIPES: T stripes
COLOR: red/blue, black/red, black/grey
HARDNESS:45degree
Density:110kgs/CBM
PACKING: 5PCS/woven bag