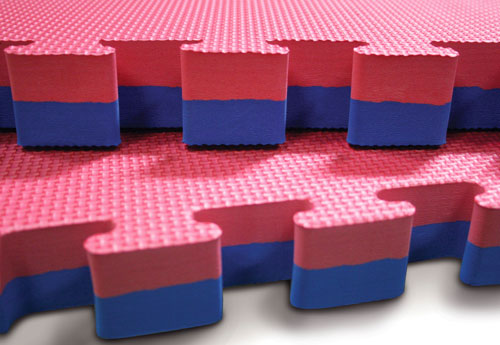 Foam mats are the simplest and easiest way to make a floor a secured and nice-looking. One of the most popular flooring materials, jigsaw foam mats. They are considered to be the most kid's friendly floor material nowadays. With greater safety appeal and a flexibility this type of flooring materials is gaining popularity both in home and professional environments.
Unfortunately, not every flooring specialist deals with jigsaw foam mats. If you are living in Australia, then you need to go for a jigsaw mats specialist shop to find out your desirable jigsaw mat. And if you are considering of buying foam jigsaw mat or interlocking mats for home, then Southern Cross Mats is the best and most renowned store in Melbourne. We also have a warehouse and store in Sydney so we can service customer Australia Wide.
Since the start, Southern Cross Mats has stocked several types of gym mats and foam mats in Australian. Whether you want to buy directly from one of the stores or simply purchase online while sitting in the comfort of your home, Southern Cross Mats has you covered. You can book your jigsaw mats over the phone and directly pick it from the store or can place your order and we can arrange delivery to your doorstep.
Why Southern Cross Mats?
Being a customer-centric company, it always aims at offering the products and services that will address the exact needs of clients and give them a highly professional experience while working with the staffs of the firm. Besides of selling jigsaw mats and foam mats, it also assists clients to get a perfectly installation service. By providing the expert guide for installing jigsaw foam mats. The mats are easy to install so with a bit of guidance you shouldn't have any trouble.
Jigsaw foam tiles are the best option for safe and soft flooring and has become the most favourite choice for schools, children psychotherapeutic clinics, homes, playrooms, and more. Owing to this cause, Southern Cross Mats has covered up a vast range of products and options for catering the needs of every client easily. Jigsaw floor mats from Southern Cross Mats are available in ranges of thicknesses, and colours sizes. Whether it is your kids' room, your workshop, your playroom or any other place, you can get mats for suiting all sized and designer rooms, decorations and interiors.
Southern Cross Mats carries foam floor mats in several bright colours, gentle shades and wood pattern designs that can complement any home decor. Most of the interlocking mats, foam jigsaw mats, and martial arts mats are flexible for a variety of uses.
Mats are designed to be on floor and so Southern Cross Mats always focuses on giving clients the best quality products. Though they are made of EVA foam, they are also durable enough to withstand regular contact with shoes and feet. This is the reason we use only quality materials so that a client can enjoy long-lasting benefits from the mat.
Beside of sizes and colours, Southern Cross Mats also gives a cost-effective price approach for our customer. All products offered by Southern Cross Mats are cost-effective and comes to suit any budget. We alway strive to be the most competitive supplier in the market. So if you need kid friendly flooring at a budget look no further.