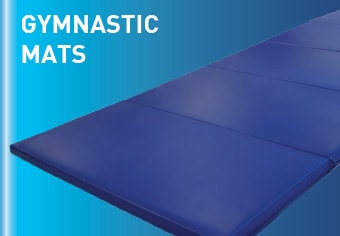 Gymnastics Mats Explained
Interlocking Gymnastics Mats
If you're looking for gymnastics mats for your studio or gym, here at Ezy Mats we supply a large range of interlocking gymnastics mats as well as tatami gymnastics mats which are perfect for any requirement.
Available in various thicknesses, which is determined by your needs, it is important to understand what you need before purchasing and the staff at Ezy Mats are the best place to start if you have any questions.
What is a Gymnastics Mat
Simply put, a gymnastics mat is a single mat (like our tatami mat) or a large section of mats (like the interlocking jigsaw mats) made of EVA foam which helps absorb impacts like jumping or falling. EVA foam is an expanded foam and offers plenty of support no matter which style of gymnastics you are undertaking.
Our gymnastics mats are like a jigsaw system, which means you can set up the floor how you like, interlocking each mat together. These mats are easy to pack up and store away, making them a great product whether you have a small studio or a large gym.
Interlocking Gymnastics Mats
Ezy Mats' gymnastics jigsaw mats have the benefit of being interlocking, which means you can connect as many mats together as you need, in the space that you have or the space that you need; they are simply referred to as jigsaw mats, as like a jigsaw puzzle, they lock into each other for stability.
Easy to assemble, easy to pack up, durable and comfortable – these are the mats you need for your gymnastics training areas.
Gymnastics Mats Thicknesses / Sizes
With three different sizes available, these gymnastics mats are suitable for a range of training purposes. Our mats come in 20mm, 30mm and 40mm thicknesses and in a size of 1m x 1m which will be able to be put together to fit in all room sizes.
How to choose your mat thickness? The 20mm mats are generally used in activities where the risk of falls and jumping is low – think warm up sessions, or children's gymnastic classes. As you start to move up in the intensity of the gymnastics session, you will need to move up in thicknesses. The 30mm mats are great for activates where there is potential for light falls and jumping – like floor work. Our 40mm mats are then generally used for situations where falls might be more prevalent such as under bars or beams.
As the intensity in the workload increases, so to should your choice of mat thicknesses.
Gymnastics Mats Uses
The Ezy Mats gymnastics mat range is used across a large range of gymnastics training as well as in gyms. Our past customers have used the mats for floor work, aerobics, Pilates, cross-training, boot camp training and more. They are a great option for any gym. We also have vinyl tatami gymnastics mats for added support during more intense exercise or for more comfort for your Pilates or yoga session. These mats are durable and easy to clean and store.
At Ezy Mats, we aim to be the most economical supplier of interlocking gymnastics mats and tatami gymnastics mats in the Australian market. Should you find cheaper mats elsewhere, we'd love the opportunity to beat any reasonable quote for the same product.
Benefits of Gymnastics Mats
There are many benefits to using foam jigsaw interlocking gymnastic mats including:
Easy to install
Simple interlocking puzzle system
Made from EVA foam
Durable and easy to clean
Offer great protection and comfort for floor work
Provide a soft landing space for falls
Suitable for all forms of gymnastic training
Contact Ezy Mats for Your Gymnastic Mats Needs
Looking for some advice before purchasing your gymnastics mats? Contact Ezy Mats today and our staff members will be happy to answer your questions and ensure you purchase the right mat for your needs.